Υπάρχει μια ιαπωνική λέξη: nukumori, μια ζεστασιά που μερικές φορές αναφέρεται στην παρουσία κάποιου που κατείχε ένα μέρος, αλλά τώρα έχει αναχωρήσει: μια κενή καρέκλα, ένα φλιτζάνι τσάι, ένα τραπέζι εργασίας ενός αγγειοπλάστη, το εσωτερικό ενός λεωφορείου ή τρένου και φυσικά τα πολλά ξενοδοχεία και μοτέλ όπου βρισκόμουν. Τίποτα στη σειρά αυτή δεν έχει σκηνοθετηθεί, όλα είναι ακριβώς όπως τα βρήκα στην πραγματική ζωή και αυτό που υπάρχει στο εσωτερικό, είναι εξίσου σημαντικό με αυτό που βρίσκεται έξω από το παράθυρο. George Nobechi.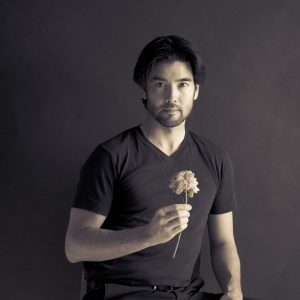 There is a Japanese word: nukumori, a lukewarmness that sometimes can refer to the presence of someone who occupied a place but had departed: an empty chair, a tea cup, a potter's work table, the inside of a bus or train car, and of course, the many hotels and motels where I found myself. Nothing in the series is staged, everything is just as I found it in real life, and what exists inside is as important as what is outside the window.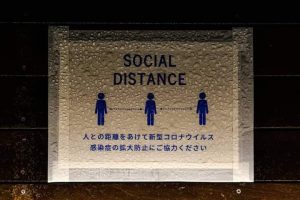 φιγούρες του μπλε
ξεχασμένες
ιδρώνουν
έλα πιο κοντά
forgotten  figures of
blue
sweating,

come closer.
κόκκινο κόι
τοίχος από μαγνήτη
λείπει το φιλί
red koi
wall made of
magnet
a  missing kiss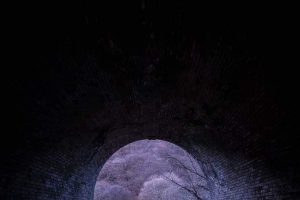 μισό φεγγάρι
περπάτησε χαμηλά
πέτρες κρατάει
half moon
walked down on
earth
holding stones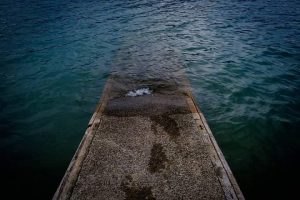 ζεστή θάλασσα
τρυφερά με
σκέπασε
βήματα στεγνά
warm sea
a gentle cover
of dry steps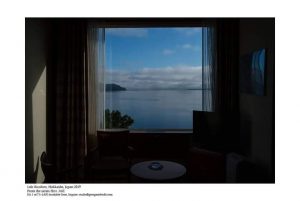 γαλάζιο πρωί
μου χτύπησε το
τζαμί
σκοτεινή ώρα
blue morning
hits me through the
window
the dark hour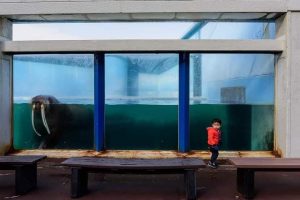 εγώ, στο μετά
της φαντασίας φυγή
πριν το όνειρο
me, in the aftermath
of fantasy's escape
before the dream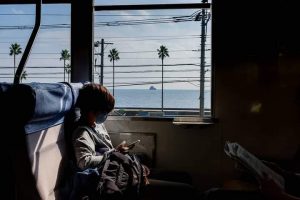 κοιτώ μακριά
καθώς φεύγει ο
χρόνος
με στόμα κλειστό
looking away
as time goes by
mouth closed wide
γύρω ουρανός
σαν είδωλο κινείται
πίσω η στροφή
surrounding sky
of a moving idol
back is turning
---
Nukumori: η ζεστασιά μιας πρόσφατης αποχώρησης/ lukewarmness of a departed presence// Maria Papatzelou /a small haiku tale inspired by 8 photographs of George Nobechi.
---
Bio of George Nobechi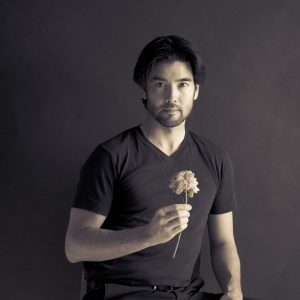 George Nobechi, Tokyo, Japan
Website: www.georgenobechi.com / E-mail: studio@georgenobechi.com
George Nobechi is a photographer whose work focuses on disconnection, duality and longing. As a bicultural Japanese/Canadian he is simultaneously an insider and outsider in Eastern and Western cultures and it is this "intimate distance" and space in between two cultures that is the unifying thread of his work. For PhotoNOLA he has prepared three bodies of work: The Japan I Hadn't Seen, Japanese Aquariums (both new for 2020) and Here.Still. (an ongoing project with updates). He is seeking to build new relationships, update existing ones, and explore possible avenues for showcasing his work.
Personal History:
I was born in Tokyo to a Canadian father and Japanese mother. Being native to a homogeneous culture that always perceived me as "the other" was a formative experience. My Japanese grandfather, a high school teacher on the northern island of Hokkaido, was my role model and nurtured in me a thirst for knowledge across the arts, science and history. Those influences remained with me as my family moved to Canada when I was eleven. During my studies in History in university, my father suddenly died, and that led to a career in the business world pursued in order to support my family. Along the way, I began to feel disconnected from life, and I embarked on several solo round-the- world journeys in order to try to cross that void. My finance career lasted a dozen years until 2014, when while living in New York, I experienced an unraveling of my life for a second time. I placed all my belongings in storage, gave up the lease on my apartment, and headed out to the desert of the Southwest United States to study photography.
What resulted was a three-year journey while being completely unmoored, with no home and only the possessions I could fit into the back of the used truck I had bought. As the months and years passed, I felt a beckoning back to my homeland, and I eventually settled in Tokyo to rediscover my country from my newfound perspective as a photographer. Since the pandemic began I have been interested in "community" and philanthropic work, creating the series Evenings with the Masters, which showcases international master photographers and raises funds for charity.
Awards, Exhibitions, Publications, Collections and Representation Highlights:
Gallery representation: Patricia Conde Galeria (Mexico) and A Gallery for Fine Photography (New Orleans).
Solo exhibitions: Here. Still. Photoville 2020 New York, Gastfeld Gallery in Bremen, Germany (2020), and Another Fair, Buenos Aires, Argentina (2020), Workspace Gallery, Lincoln, Nebraska (2018-2019), Jackson Dinsdale Art Center, Hastings College, Nebraska (2018), and Moments of Serenity at Walls of the World Gallery, Penne, Italy, 2018.
Group exhibitions number 35+ to-date, and collections include the Center for Creative Photography, Tucson, Detroit Center for Contemporary Photography and the Australian Museum of Contemporary Photography.
Publications: Huffington Post, PDN, Lenscratch, Fraction & Vostok: Here. Still., Newsweek & Edge of Humanity: Granite and Glass, Asahi Camera: To Bloom in the North Country.
Awards include: Here. Still. Critical Mass Winner 2017, Rfotofolio winner 2018, Review Santa Fe 2018, Paris Photo Prize Silver for monograph and fine art categories 2017, PDN's The Curator Award best landscape series 2017, Phoenix Art Museum's Sidney Zuber Award Honorable Mention 2017, SilverEye Center for Photography's Commendation Award 2017, PRC Boston's Exposure Award, etc.
Japanese Aquariums: PX3 State of the World Curator Selection Winner 2020, Rfotofolio Merit award winner 2020, Kolga-Tbilisi Photo Festival Best Single Shot 2020 Finalist.
The Japan I Hadn't Seen: International Photo Awards: Honorable Mention 2020, Kolga-Tbilisi Photo Festival Best Single Shot 2020 Finalist.
---
Maria Papatzelou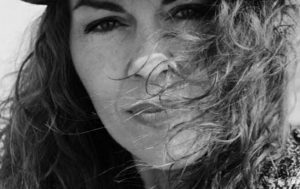 Graduate of the School of Fine Arts of Thessaloniki, a visual artist, scenographer, co-curator of international art projects, radio producer of @ Art in the City, www.entropiaradio.gr and art teacher in Secondary Education. She lives and works in Thessaloniki. She has participated in many group exhibitions, in Greece and abroad (India, London, Kobe , Excellent Prize in International Art Exchange Exhibition Kobe 2017, 2018, 2019 and Kyoto, Japan) and has presented 6 solo exhibitions. She writes Haiku poetry and her first book "Inner Connections of the Liquid Sky" was published in Japan, with translation and comments by Professor Mr. Masashi Nakamura.
She is a member of Theater Maiotron since 1994.